The Cost of Website Downtime
Your website is the shopfront of your business, and internet users instantly want it to load when they click on it. Most users expect a website to load in less than two seconds. Even a one-second delay in loading can lead to a considerable drop in sales.
If such a short delay in website loading time can cause a significant drop in conversions, it's easy to imagine what can happen when a website is inaccessible. If your website doesn't load, it's inevitable that first-time visitors will go to your competition. It can also occur with your returning, loyal customers when they encounter a broken website.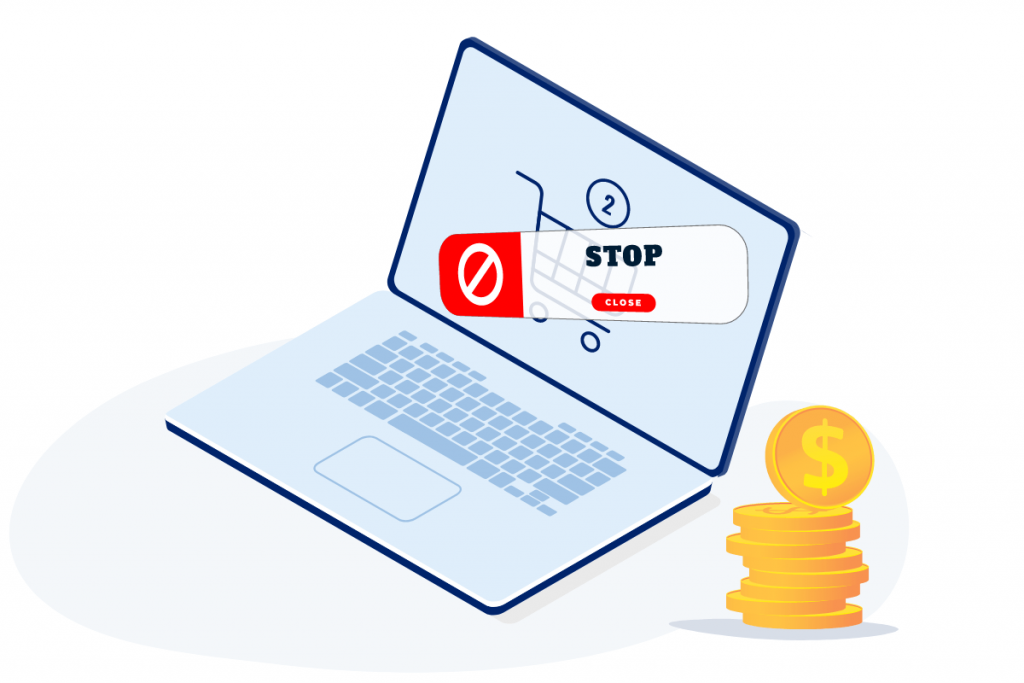 In article:
What is the cost of downtime?
The cost of downtime is a financial estimate intended to show the losses and additional costs generated by a website or service during downtime.
What is website downtime?
Website downtime (opposite website uptime) is when a website is unavailable online or doesn't function well enough for end-users to complete the main task.  
When we think about downtime, we always have two essential things in mind:
time – how long the website is down, in seconds, minutes, hours, days etc., time is a base to calculate the cost of downtime,
what constitutes downtime – currently, this is more complicated than obvious 5XX error or general website failure, and it is a crucial factor in terms of recovery from downtime
What is considered website downtime?
Downtime is a subjective concept and can easily be defined as the opposite to uptime. This is how we choose to explain it. 
Uptime means that the end-user can:
access the website,
perform and complete tasks the website has been created for.
When we describe what we consider uptime, it is easy to recognise downtime as a situation that is opposite to the points above. Nowadays, downtime is more complex than we believed it was even a few years ago. 
It's not only websites that are completely broken, hacked, returning an error (e.g. 503 or another), broken connection to the database or showing PHP errors that are considered down.
Slow websites with poor Core Web Vitals results can also be considered inaccessible because nobody wants to wait 10 seconds for the FCP (see: First Contentful Paint). In the same way, a website without proper cross-device performance can also be considered non-accessible.
What are the common reasons for website downtime?
human error – e.g. wrong DNS entry on the server, error in PHP causing disconnection with database, any other error caused by people
equipment failure – e.g. server or network breakdown, power outage and any other reason caused by the hardware
malicious attack – e.g. malware infection, Distributed Denial-of-Service (DDoS) attack, DNS (Domain Name Servers) cache poisoning, hijacking or redirection, any other malicious activity causing website downtime
catastrophic accident and natural disaster – e.g. fire in the server room (read about this in our article "Fire in the server room – why do you need independent backup")
traffic overload – even success can bring failure. If you expect massive traffic, check that your server can deal with it
What is the impact of website downtime on the business?
Immediate effects of downtime

zero online sales – direct loss of revenue
zero ad revenue

Potential losses

no leads – future loss of revenue
permanent site abandonment
outages can affect page ranking (SEO)
your brand loses credibility

Additional costs

recovery costs
service delivery interruption costs and compensations for users, e.g. when you are selling SAAS solutions (Software As A Service), it depends on agreements
Direct losses – zero sales, abandoned carts, no ad income. The immediate effects of downtime are easy to calculate. The calculation is based on uptime time and average cost or profit.
Search engine bots crawl the web, continuously checking sites and content. If the bot finds a website that's down, it can return after some time and try again. It is not completely clear what happens after that. More extended downtime will impact your SEO, e.g. keyword rankings and the number of indexed pages.
The loss of website reputation and brand credibility is also a big issue. It should be managed from a technical perspective – going back to normal. Another essential part of recovery is figuring out how to calm people down. This is now considered a new art form for social media managers.
Here's an example of how website downtime can be dealt with humour: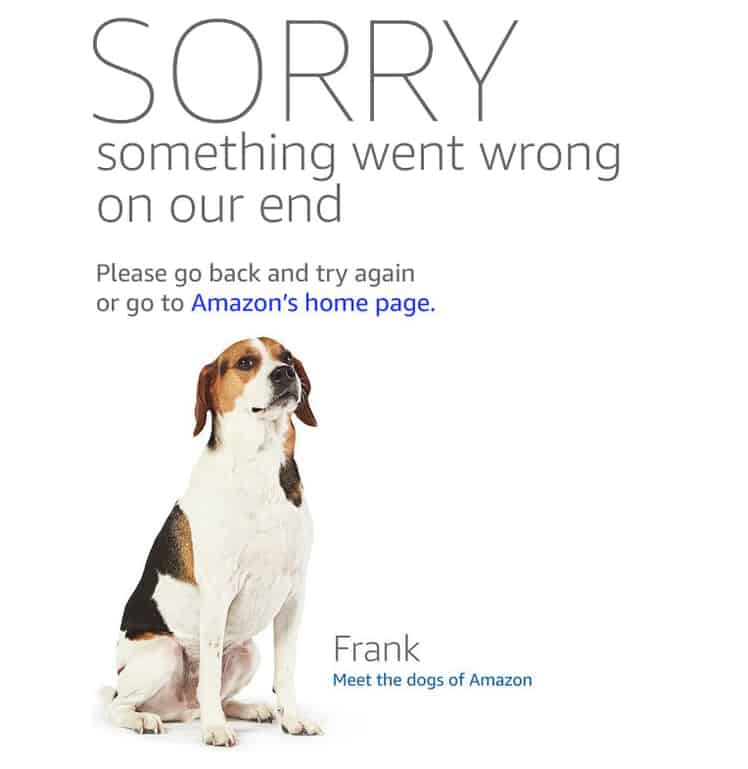 How to calculate the cost of downtime?
Quantifying the impact of website downtime

Evaluating downtime losses
Calculating the cost of website downtime based on a benchmark
Calculating the loss based on uptime percentages
Downtime revenue losses basic formula
For example, the formula for gross revenue loss in a situation when the website is fully inaccessible will be:
L = (GR/T) x TD
in this equation:
L – total loss of Gross Revenue
GR – Gross Revenue
T – time for the Gross Revenue period, e.g. 1 month, 1 year
TD – Total Downtime
Always use the same time measure for T and TD, for example, [seconds
]Example calculation: let's say that the monthly (T) gross revenue (GR) for the international e-commerce company is $200,000, and the website experienced downtime (DT) for 2 days.
GR = $200,000
T = 1 month = 30 days x 24 hours x 60 minutes x 60 seconds = 2,592,000 secondsseconds
TD = 2 days = 2 days x 24 hours x 60 minutes x 60 seconds = 172,800 seconds
L = ($200,000/2,592,000 sec) x 172,800 sec = $13,333.33
In this example, we simplified many essential factors, for example:
e-commerce sites usually run sales for limited hours (e.g. 10 h/day). This can impact the result when downtime happens during a peak sales time
sales usually fluctuate during the week/month/year,
we haven't calculated additional costs like recovery costs, lost data costs etc…
we didn't take into consideration potential losses like permanent site abandonment, SEO page ranking drop, brand credibility loses
Is downtime a real problem?
According to the news website Axios," Amazon could have lost anywhere from $72.4 million to $99 million in missed sales during the hour the site was down during Prime Day, analysts are estimating." Digital Commerce 360 estimates the downtime costs Amazon $US72 million, while Love the Sales' Liam Solomon estimates it costs Amazon up to $US99 million.
Amazon reported revenues of $386 billion in 2020, which gives us an average of $734,398 every minute in today's numbers, or a $9,547,184 cost if the 13-minute episode from 2016 would happen in 2020.
According to IBM, in 2020, responders reported an average cost per hour of the enterprise server downtime cost between:
$301,00 to $400,00 – 25%
>$5M – 17%
Complete results data in the graph below.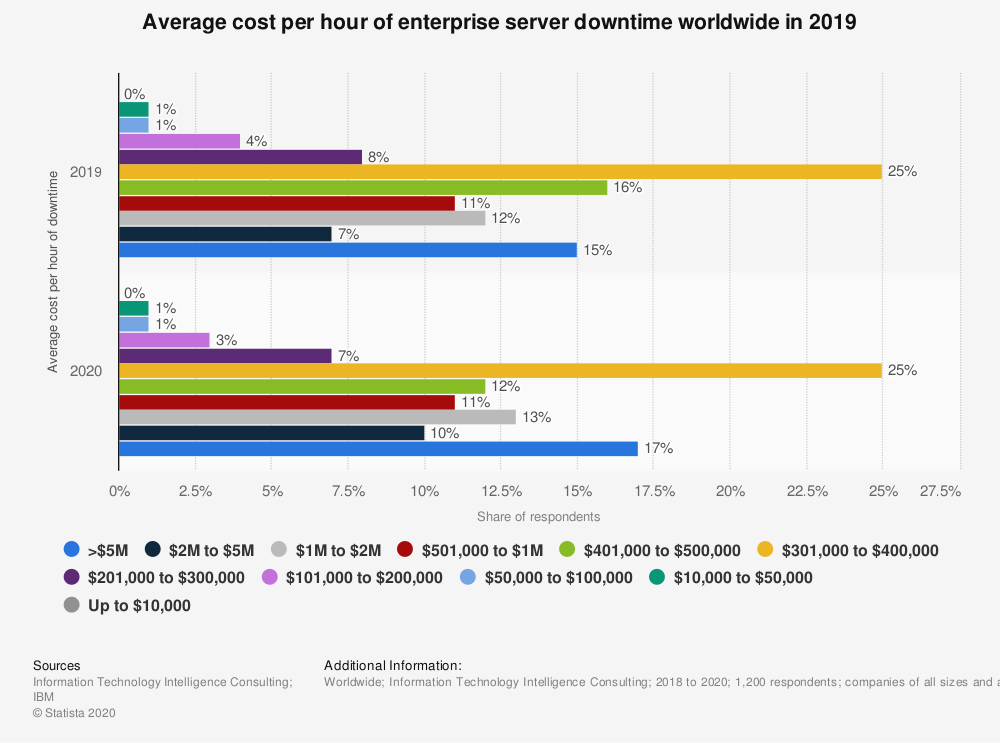 Reducing website downtime
Set up uptime monitoring – it is good to know that something went wrong.
You can choose from plenty of uptime monitors, both free and paid (premium). The standard monitor checks your website and sends an alert when your website is down. This information is crucial and allows you to take corrective action before it's too late.
Choose good quality hosting for your website.
How much is your time worth? Good hosting companies will deal with server-side problems and also can help with technical support. When you think about good hosting, always think about the resources you need as well as server and network speed. When it comes to user experience and conversion optimisation, every second counts.
Use WordPress website maintenance services.
Most businesses prefer to outsource their website maintenance to professionals as this helps to save time, energy, and stress. They can put their website care to rest and be assured that their website is always healthy, running smoothly, and free of defects.
They can also take care of the website's security and protect you from malware or hacks.
Prepare a website rescue plan.
You can increase the chance of fast recovery from a problem when you prepare a website rescue plan. The plan should include:
risk identifications
possible solutions for recovery (spare servers, backups, procedures)
human resources responsible for the plan execution
social media and public relations management
The takeaway for website owners
Downtime is challenging to avoid, but suitable support systems and monitoring solutions can reduce it to near zero.
This is the reason why you should be prepared. Having the proper resources and plan can make sure you will recover quickly without more significant problems.
This will keep you from losing revenue, but it will improve the overall impression you make with users and potential customers.