What are categories and tags in WordPress?
Categories and tags are both taxonomies, which is a fancy word for a way of grouping and organising content. Tags have a flat structure, while categories have a hierarchical structure. And finally, both taxonomies are ways of grouping and organising your content.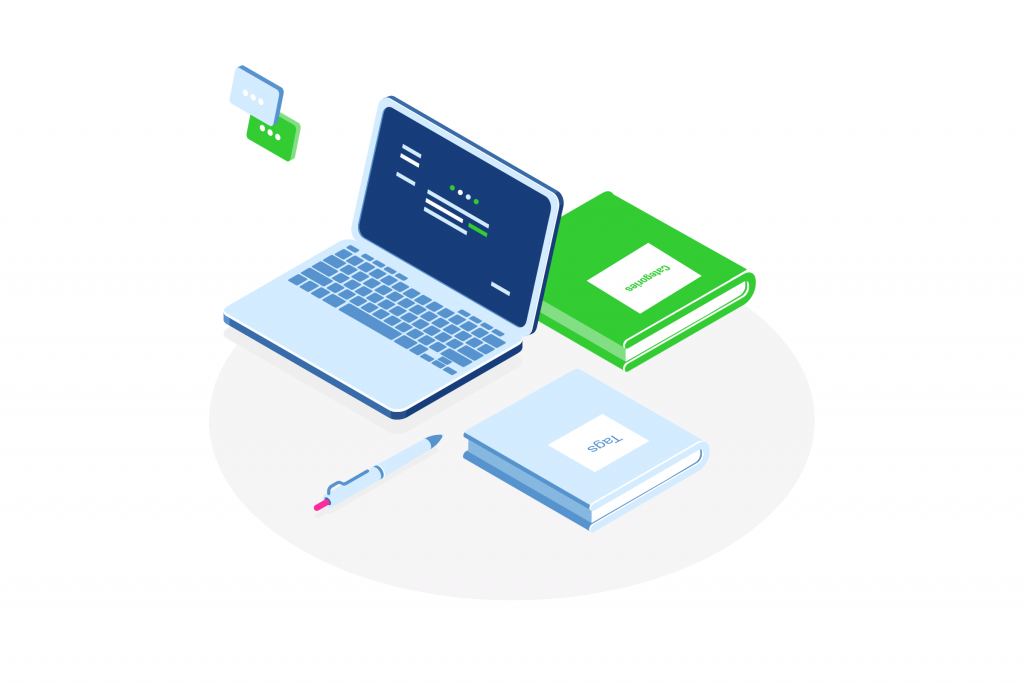 What's the difference between tags and categories in WordPress?
Categories organise your posts into different groups, while tags are more for labelling individual posts. It's almost the same – you can use both taxonomies for the content grouping and organising posts.
categories have an ordered hierarchical structure – you can use them to build a tree structure by arranging them into subcategories,
tags have a disordered flat structure – just one bag where everything falls into
WordPress requires each post to belong to a specific category. It will be marked as uncategorised if you don't attach it to any category. However, it would be best to remember not to create too many categories in advance, as it used to be when you tried to use them to assign each entry precisely. Categories should grow with your website – add them only when needed.
What are WordPress categories?
WordPress categories are the primary mechanism that organises the published content, grouping the topics covered by the published content. Creating a category tree allows you to assign entries to individual parent categories, child categories, or both. The purpose of this action is to make it easier for the user to find the content that interests him.
How to categorise content in WordPress?
Categories have an ordered hierarchical structure, and you can create subcategories within categories. For example, in the culinary blog, you can create a category for Recipes and then have subcategories for Breakfast, Lunch and Dinner.
Structure example:
Small warning on this point. When you use the categories mentioned above and have different audiences you want to target, e.g. vegans, keto diet, gluten-free etc., you can't create them as categories. Why? Because vegan recipes and dinner can interlace – these are not different categories of the same taxonomy but different taxonomies, they can work independently. What if I want to find vegan dinners? Will I add dinner and breakfast under vegan again? Will I add vegan to breakfast? 
In this case, you should use custom taxonomies and your content types, not use categories and tags excessively, and put different taxonomies there. As you can read on the WordPress developers' website, […] "Custom Taxonomies are useful when one wants to create distinct naming systems and make them accessible behind the scenes in a predictable way."[…]
In e-commerce websites, categories are the best to organise departments. For example, in the grocery store, you can have dairy products, bread, vegetables etc.
Dairy

Breakfast
Milk
Long-life Milk
Eggs
Cheese
etc

Pantry

Breakfast
Jams, Honey $ Spreads
Confectionery
Desserts
etc.
Do WordPress categories help SEO?
Adequately implemented categories can support website SEO. In e-commerce, categories are used to mark store departments (e.g. product_category in WooCommerce).
Well-crafted categories should be indexed, and they can rank for specific keywords. Usually, to achieve this, you need to optimise a single category page by adding appropriate headings, texts, etc.
Example for the gardening store:
plants
water plants
indoor plants and flowers
cottage plants
trees and shrubs
etc.
In the example above, you can try to get into search results with the primary category "plants" for the keyword "plants", but also you can use the second level of taxonomy hierarchy to rank for keywords "water plants, "cottage plants", etc.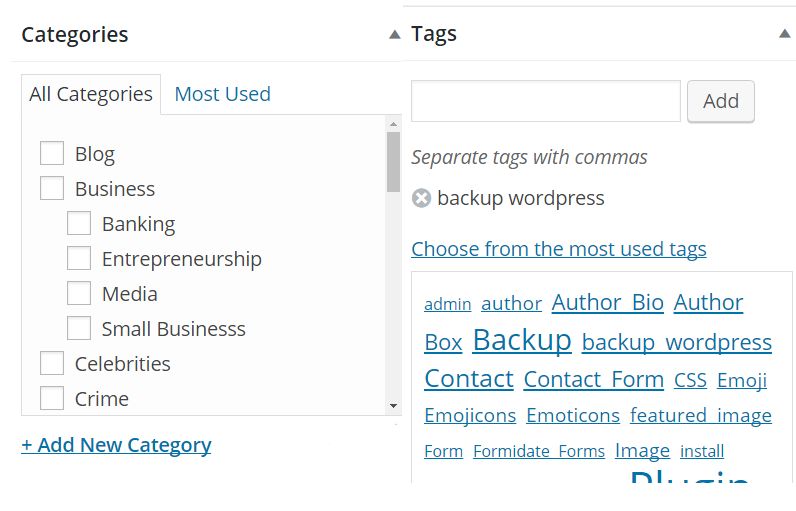 What are WordPress tags?
Tags, on the other hand, have a disordered flat structure. It means that you can't create a hierarchy within tags. Using tags is optional, although it can be helpful in some cases.
What are WordPress tags used for?
You can use tags for more for loose labelling and use as many or as few as you want. As we mentioned in the previous paragraph, tags have a flat unordered structure, and the best idea is to treat them as keywords or search terms.
For example, if you have a post about a recipe for apple pie, you could tag it with "apple", "pie", "dessert", and "cake." It is helpful if you want to label your posts with specific keywords.
How to tag WordPress posts?
Use only meaningful tags (words), which can improve the search for a particular thing on the website. Remember that tags are not keywords (for the browsers).
For example, imagine you run a website for homeowners with loads of articles with advice on various maintenance and repair issues. Adding the tag "guide" will not add any value to the user. But when you add the tag "windows", it can aggregate all guides regarding windows, e.g. windows cleaning, windows repair, window adjustment etc.
Another excellent example of using tags is that you could make a tag for "cat" if you sell clothes with many feline prints. Then add that tag to the menu or sidebar so cat lovers can easily find all t-shirts, hoodies, and pants with cat prints.
Indexing tags could be an SEO issue in the e-store. It creates messy structures that are not easily understood by the customers and often competes for keyword positions with products (keyword rankings cannibalisation). A good practice is to index categories and noindex tags.
How many tags should I use for each entry?
WordPress in no way limits the number of tags you can use. There may be several or even several dozen of them. A good practice is having fewer tags than articles; each tag should (ultimately) be assigned at least a few entries. The bad practice is to tag all posts with the same tag. That way, you can create useless archives for all or most posts.
Do WordPress tags help SEO?
There is no direct impact of tags on the SEO of your website. As we mentioned before, we recommend "noindex" tags. You can use popular WordPress SEO (Yoast) to manage it.
Tags can be an additional navigation method, encouraging users to read other articles assigned to a given tag. It can improve your general SEO performance and deteriorate when misusing tags. Skilfully applied tags can be a different way to optimise the website and positively impact SEO by increasing users' flow to subsequent subpages and improving website page views and conversion.
Summary – categories and tags in WordPress.
categories are hierarchical, and tags are flat structure (there are no child or parent tags)
using categories is recommended, and tags – optional
use custom taxonomies and your content types when you want to create unique naming systems 
categories should be indexed, and tags should not
 there should be much fewer tags than posts/articles/pages,
each tag should (ultimately) be assigned at least a few entries,
tags should not coincide with categories; they should supplement each other
We're ready to help
If you need assistance with your WordPress website, contact one of our specialists via contact form. You can also read more about tags and categories on the WordPress support website.